Nepali Papercraft
(source: https://www.facebook.com/papercraftnepal/)
Nepali papercrafts have been around since ancient times, however, their popularity has increased over the past few decades due to the emergence of social media platforms like Instagram. Today, people use these crafts as decorations, gifts, and souvenirs. There are many different types of papercrafts, including paper lanterns, paper cranes, origami animals, and Buddha statues. Many Nepali papercraft artists specialize in making certain kinds of papercrafts.
These Nepali papercrafts are traditionally handmade papers that are used to make religious offerings, gifts, and decorations. The art of making these crafts dates back to at least the 15th century AD. Nepali papercrafts are handmade paper models that are used in Hinduism and Buddhism. They are usually made from rice papers, but can also be made out of other materials like papyrus and mulberry bark, bamboo, rice straw, and rags. These crafts are often used for religious purposes, including ritual offerings, prayers, meditation, yoga, healing, and personal adornment.
Nepal's paper craft industry has been developing rapidly over the past few years. There are many small-scale enterprises that have started producing quality handmade papers.
Handmade Papermaking In Nepal
The art of making paper is over 2000 years old. In ancient times, Nepalese used to make paper using mulberry bark but now they use wood pulp including other raw materials like papyrus, bamboo, and rice straw. It takes about 4-5 days to complete the whole process including drying and boiling. They pound the wood pulp into thin sheets and then dry them in the sun. After that, they soak them in water and then boil them until they become soft. They finally turn them into sheets and cut them into shapes.
(source: http://ecs.com.np/craft-product/listen-lokta-paper-is-telling-a-story_
Here is a descriptive process that takes place to get the fine piece of handmade paper in Nepal:
Collecting Raw Materials
The raw materials used to make paper are wood pulp from trees (usually cottonwood), rags, straw, bamboo, or any other cellulosic material like grasses, and cornstalks. The raw material used to make paper is selected based on its quality, color, texture, thickness, and durability. The selection of materials is done according to the type of paper that is being produced.
(source: http://ecs.com.np/craft-product/listen-lokta-paper-is-telling-a-story)
These raw materials are first treated with chemicals to separate them into individual fibers. Then water is added and mixed together to form a slurry. This mixture of fibers and water is squeezed through a series of rollers that further breaks down the fibers. Afterward, the slurry is spread out over large sheets of woven wire cloth called felts. The felts are then dried until they have reached the correct moisture content. When the paper reaches this point, it's ready to be cut into various shapes and sizes.
Preparation of Mulberry Bark
After getting the desired size from the dry bark, they are soaked in water for about 12 hours. After soaking, the bark pieces are boiled for about 2 hours and then allowed to cool down gradually. This step is repeated twice a day at regular intervals until the water content reaches around 20%. In this stage, the pH level should not drop below 5.5. If the pH level drops lower than that, the process has to be stopped.
Bleaching
After two weeks, the pulp inside the bark is removed using a wooden stick. The remaining dark brown-colored skin layer is called 'gum'. Now, it needs to be bleached. First, the gum is placed in sunlight for three days. Then, it is cleaned thoroughly using a clean cloth. After that, it is treated with a lime solution for about 10 minutes. Finally, it is rinsed with fresh water several times.
Drying and Finishing
This stage involves drying the wet sheets of paper. The sheets are passed through a series of chambers where hot air flows through them. In some cases, steam may also be added to the chamber to speed up the drying process. Once dry, the sheets are ready to use.
(source: http://ecs.com.np/craft-product/listen-lokta-paper-is-telling-a-story)
After the preparation of pulp, it is dried in large ovens. Oven drying is usually done at temperatures between 90-100 degrees Celsius.
Once the papers are finished, they are coated with sizing agents and/or coatings to give them their final properties. A coating could include starch, waxes, oils, dyes, and pigments to give the finishing touches.
Production & Exports
Nepal exports its handmade paper in two forms: newsprint and writing paper. The country produces about 1 million tons of newsprint each year, while about 5 million tons of writing paper are exported. In recent years, the government has been promoting the use of recycled papers instead of virgin papers, which reduces the environmental impact of production.
What Are Paper Crafts Used For?
Paper crafts have been around for centuries. People who were interested in arts and crafts would often make their own decorations and other items. These days, paper crafts are still being made but now we have many different kinds of materials to work with. You can buy craft supplies at local stores or online. These papercrafts are popular amongst locals and tourists alike. Most people buy them as souvenirs or gifts. Some of the items include wall hangings, notebooks, photo albums, calendars, boxes, bags, and greeting cards.
(source: https://www.ucreative.com/inspiration/awesome-papercrafts-for-your-inspiration/)
Paper crafts are a great way to express yourself creatively. They can be used to decorate your home, office, school, party, or even gifts! You can use them to create beautiful art pieces, photo frames, wall hangings, gift boxes, cards, and scrapbooks. Paper crafting is a hobby that anyone can enjoy. There are many ways to make paper crafts; some people like to draw their designs with free hands while others prefer using templates. Some people may choose to paint their own pictures while others may want to print out pictures from the internet and cut them into shapes.
Popular Papercraft Products In Nepal
Paper Lantern
A paper lantern is a traditional form of lighting used in Nepal. Made from hemp paper, these lamps are often used indoors or outdoors to create atmospheres that are conducive to relaxation, meditation, study, and prayer. Besides that, they can also double as decorative items.
(source: http://nepaltibet.com/shop/paper-lamp/)
Paper lanterns are a great way to add some color to your home and create a relaxing atmosphere. They can be used indoors or out, but they do require a lot of maintenance. If you want to keep your paper lantern looking its best, then make sure that you clean them regularly. You should wash them off after each use and dry them thoroughly before storing them away.
Rice-Paper Products
The rice paper industry has been around for over 2000 years. Rice paper was invented in China during this period and was originally used for wrapping medicinal herbs. In recent times, the use of rice paper has spread across the world. Today, rice paper is commonly used as a packaging material for food products, cosmetics, and household goods.
(source: https://www.smartfamily.com.np/decor/lokta-products-and-its-trend)
Rice paper products are manufactured using rice flour mixed with water. The mixture is then put into a machine where it is squeezed through a mesh screen. This produces thin sheets of rice paper. Rice paper products are usually sold at local markets in Nepal. However, these rice paper products can also be bought online.
Paper Flowers
Flowers are something special that express our emotions. One way to bring flowers alive is to create your own floral crafts. People can decorate any of their favorite flowers into a stunning flower craft. This is an easy project that will help you improve your floral arranging skills!
(source: https://www.etsy.com/listing/1036528501/kit-linen-flower-paper-nepal-natural)
Paper flowers are used for many different reasons. They can be used in floral arrangements, added to bouquets, or even used as centerpieces. There are many different types of paper flowers that are used in the industry today. Some of them include silk roses, crepe paper, and tulle. Each type of paper flower has its own unique characteristics and uses.
Lokta Papercraft
Lokta paper is a handmade paper used for making different kinds of items like cards, gift boxes, notebooks, etc. This paper is made from various types of trees that are native to Nepal.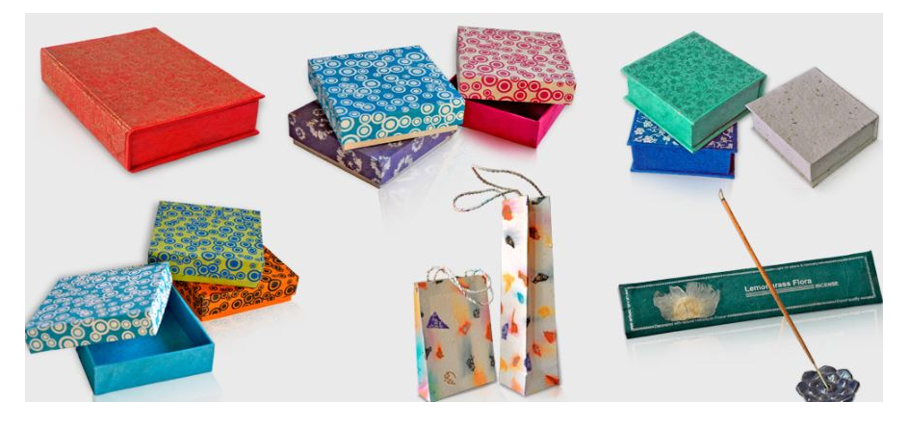 (source: http://www.handicraftspirit.com.np/)
Lokta paper is a handmade paper product that is made from the bark of the mulberry tree. The lokta paper industry has grown rapidly in Nepal since the early 1990s. This paper is mainly produced in rural areas of western Nepal. There are many reasons why this paper is becoming popular around the world. One reason is that this paper is extremely strong and durable. Another reason is that this paper can withstand high temperatures and moisture levels. And finally, this paper is biodegradable and recyclable. So, if you want to decorate your home or office with something unique and beautiful, then this paper would be perfect for you!
History of Nepali Papercraft
The history of paper craft in Nepal dates back to more than 2,000 years ago. The art form was brought over from China in the 7th century AD and has since developed into a rich tradition.
In Nepal, paper crafts are traditionally used for religious purposes and can be seen at festivals and ceremonies. They are also sold in shops and markets around the country.
(source: https://handicraftsinnepal.com/lokta-paper)
Nepal's traditional paper-making industry has evolved over the years while keeping its unique culture and heritage alive. Many of Nepal's paper-making techniques have been passed down from generation to generation. These days, some Nepalese paper-making families still follow their traditions by using traditional methods.
Today, some of the traditional techniques have evolved into modern forms while others remain unchanged. This style of craft is gradually becoming more popular among young people who want to express themselves through their work.
Popularity of Nepali Papercrafts
Cheap
Nepal has been known for its paper crafts since ancient times. In fact, they have been used as currency for centuries. This is due to the fact that Nepal's economy was based on agriculture until recently. Because of this, people were always looking for ways to save money. As a result, they started using paper instead of other materials. Today, these craft items can still be bought at low prices.
They are easy to make
Paper crafting is not difficult to learn. You just need basic tools like scissors, glue, and paintbrushes. Once you get the hang of it, you can create your own designs and sell them. There are many online tutorials that teach you how to make different types of paper crafts.
Eco-friendly
Many people think that paper crafts use too much water and energy to produce. However, this is not true. Most of the time, paper crafts require fewer resources than other traditional crafts. Based on raw materials found in nature, the Nepali papercrafts are  100% eco-friendly, they are bio-degradable and do not impose any kind of harm to mother nature.
Quality
Nepal's paper craft industry has been around for centuries. In fact, some of the oldest paper crafts are still being produced today. Today, Nepal's papercraft industry is thriving due to its rich history, tradition, and culture, there is certainly no doubt that the art coming out of the country engraved in such rich history and culture would compromise the quality. The papercrafts found in Nepal are of high quality.
Durability
The quality of papercrafts from Nepal can last for hundreds of years if they are kept away from moisture and direct sunlight. This makes them ideal gifts that will always be cherished and appreciated. In fact, some of the historic arts and documents have been passed down to the current generation with the help of these amazing papercrafts.
Authenticity
Because Nepal's paper craft industry has existed for so long, many people have come to know about its authentic products. These items are not mass-produced; instead, they are handmade using traditional methods of crafting.
Variety
In addition to traditional designs, Nepal's papercrafts also feature modern designs. You'll find everything from animals to flowers to landscapes to even abstract patterns. You could have your pick from the traditional and modern arts to gift, decorate or preserves for your memories and values.
Some Interesting Facts About Nepali Papercraft Industry
Nepalese paper craft products are handmade using traditional techniques and materials that have been used for thousands of years. Made from cotton, hemp, rice, bamboo, and other natural fibers, these crafts are often adorned with religious symbols and motifs.
Nepal's papercraft industry has grown over the past few decades due to increasing tourist interest in this unique cultural tradition. Many products can provide your home with a sense of culture and tradition while providing hours of creative playtime for kids!
Nepal is a country of many ethnic groups and diverse communities. Each community creates its own unique papercraft design and patterns. These designs express each people's heritage through embroidery and applique work.
In addition to being beautiful and educational, paper crafts are inexpensive, easy to transport around the world, and suitable for almost any space. They're even great for travel souvenirs!
The artisans who create these crafts use recycled papers, old maps, and other discarded items that would normally go into landfills. By purchasing a handmade paper craft product, you are not only supporting an independent artist but helping to preserve Nepal's environment as well.
Whether it's wall hangings, floor rugs, or clothing, anything you purchase at a local market should come from a reliable seller who uses environmentally friendly practices. This means choosing handcrafted paper crafts from makers who care about the traditions of their craft and the quality of their products.
Around 7,000 different types of trees and shrubs are grown in Nepal for use in the paper-making industry.
There are about 6,000 paper mills run by small-scale industries and big corporations in Nepal. 90% of these operate without electricity.
Nepal has three major sources of raw materials used to make handmade paper, namely bamboo, ragi (finger millet), and rice straw.
Bamboo is the most commonly used raw material for paper making. It can be processed into different types of papers like writing papers, books, and magazines.
Nepal's rich cultural heritage can be traced back over 5,000 years, one of the oldest surviving paper craft techniques was developed here.
The craftsmen of Nepal are well-known for their fine quality and attention to detail. They create intricate pieces that are both decorative and functional.
The craftsmanship that goes into making these products is impressive, but what makes them unique is the quality of the materials used. Nepal has some of the highest-quality cotton and silk papers in the world. And the designs are always inspired by nature.